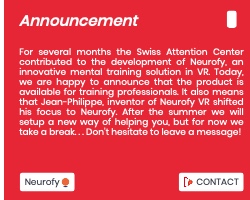 For several months the Swiss Attention Center contributed to the development of Neurofy, an innovative mental training solution in VR. Today, we are happy to announce that the product is available for training professionals. It also means that Jean-Philippe, our coach and inventor of Neurofy VR shifted his focus to Neurofy. After the summer we will setup a new way of helping you, but for now we take a break. . . Don't hesitate to leave a message!

More news to follow.
In the meantime, enjoy your summer !
Announcement
Contact
Neurofy
DIAGNOSTICS  CONSULTATIONS
MENTAL TRAINING
DIAGNOSTICS  CONSULTATIONS
MENTAL TRAINING
At the Swiss Attention Center we offer different services, but they are all about ATTENTION.  We don't handle other themes, unless ATTENTION is somehow a major factor involved. With that in mind, here's what we do most…
Affiliations
These are some of our affiliations …
Questions? Worries? Get in touch with us!
MORE IN DETAIL
A couple of extra's we've got to offer.
EXPERIENCE
Taken together our team has more than 20 years of experience in the field of ADHD.
HIGHLY SPECIALIZED
We only take on cases relating to attention (ADHD, HPI). We don't handle anything else.
SEVERAL FIELDS
Attention can be an issue at school and at work, but also when learning to drive. We take this into account.
ALL AGES
Attention issues are not bound by limits like age or gender. Our assistance isn't either.
INTERNATIONAL
Our professionals are accredited by several specialised organisms, all over the world.
COMPREHENSIVE
We take care not only of the diagnostics, but also propose solutions and help you apply those.
Leave us your details and we will try to get back to you as quickly as possible.
DIAGNOSTICS / CONSULTATIONS / MENTAL TRAINING
+41 32 534 71 70
DIAGNOSTICS / CONSULTS / MENTAL TRAINING